Welcome to the ChäoS;Child Wiki!
Thank you all for contributing to this wiki, as always feel free to help out.
Do note that content for Love Chu Chu!! is only here: LCC
Recent Changes • Wiki Activity • Forum • Help
Synopsis
Chaos;Child (2014) is a Japanese visual novel developed by 5pb. and a thematic sequel to Chaos;Head.
In 2009 on Shibuya, a series of gruesome murders dubbed the "New Generation Madness" was followed by a sudden earthquake that destroyed the entire city in a single night. Many young children would suffered symptoms similar to those with PTSD which was later named as "Chaos Child Syndrome".
Chaos;Child takes place 6 years later where President of the Hekihou Newspaper Club, Takuru Miyashiro along with several other members investigate new mysterious deaths occurring in now known as "Shibuya, a city reborn". Takuru would later discover that the mysterious deaths links back to the *New Gen murders that happened six years ago. Other strange incidents and weird stickers with a face of a sumo wrestler started appearing around Shibuya as well. Takuru, a self-proclaimed "right-sider" decides to now solve Shibuya's biggest mystery behind the murders.
*New Gen is a shortened-form of "New Generation Madness" that took place in Chaos;Head.
Other Chaos;Child content: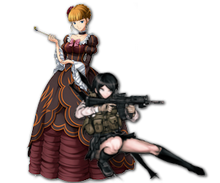 Community content is available under
CC-BY-SA
unless otherwise noted.